If you have a Barney fan in your life, a great Holiday gift for them just came out on DVD today! Celebrate with Barney is a 3-DVD set that includes: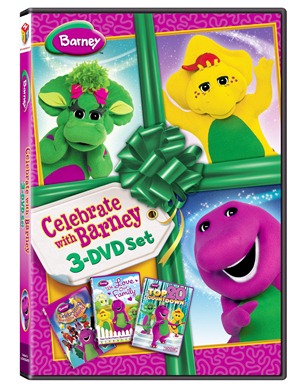 Barney: Celebrating Around the World

Join Barney and his friends on a magical adventure on Barney's Imagination Unlimited and explore the different types of celebrations around the world.

DVD Bonus Features:
· Fifi and the Flowertots™ Episode: "FuzzBuzz Catches Cold"

Barney: Top 20 Countdown

It's time to sing and dance to Barney's Top 20 Countdown of your favorite songs! Along with Baby Bop™ and BJ™, Barney shows you how to sing and count at the same time and how to move your feet to some great beats.

DVD Bonus Features:
· "What's That Sound?" Game
· "If You're Happy and You Know It" Sing-Along
· Bonus Episode Roary The Racing Car™ – "Roary Cleans Up His Act"

Barney: We Love Our Family

All we need is love from our family and friends—and, of course, Barney! Discover the joys and laughter that family can bring in this collection full of unforgettable moments of warmth and togetherness.

DVD Bonus Features:
· "Dino Dress-Up" Interactive Game
· "Welcome, Cousin Riff" featurette
Buy It: This set can be purchased at major retailers for the MSRP of $19.98 or on Amazon
for just $14.99.
Be sure to check out Barney's website & Facebook page for more fun!


Note: I received this DVD in order to facilitate this review. All opinions are my own.