Christmas can be an expensive time of year for anyone, but don't despair. Just because there are some expected expenses, that doesn't mean you have to overspend.
Here are five key money saving tips to help ease the burden on your wallet this year: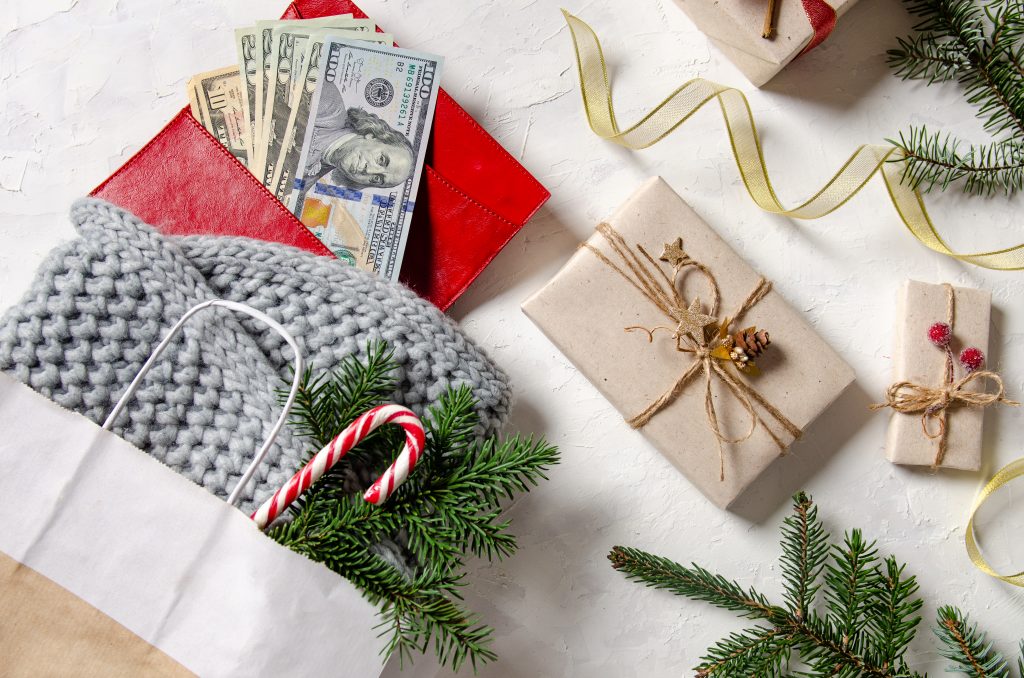 Get a Jump Start and Start Planning in Advance
In the few months running up to Christmas, shops will start offering various sales. Keep an eye out and make sure you have planned what you need to buy for everyone beforehand.
You can get some great bargains in these sales as many stores are trying to boost their profits before Christmas. Don't leave your gift buying until the last minute as it's just not worth it. There are three key reasons not to leave your buying until the last moment:
The crowds!
The out of stock goods!
The high prices!
Make a plan of what you want to buy for everyone months in advance and try and get it all in the various sales. Savings of as low as 20% can quickly add up if you are buying a lot of presents. You can use this printable gift list to keep track of what you've purchased!
Make a Reasonable Budget- and Stick to it!
This is especially relevant when you have little children! I know the temptation of seeing something they'd love and getting it because it's only another $5 or so but these purchases soon add up. Suddenly the $200 you were going to spend on your little darling has turned into $500 by the time Christmas has come around.
To avoid over spending make a budget of what you plan to spend and make sure to keep a record of purchases. Keeping track is important as it is easy to lose track if you starting buying early.
The most important thing to remember is to stick to your budget. I know it is hard but sometimes less is more as kids can be overwhelmed by the number of gifts at Christmas making each one less special and appreciated.
Make it easier to stick to your budget by including all of your Christmas expenses in your budget ahead of time so there are no surprises. Consider expenses you have every year, like a holiday meal, an outfit for the office holiday party, new ornaments, and holiday cards.
Don't Sign up for Store Credit Cards
We've all been there getting the hard sell for a store working trying to get you to sign up for a store card. Often they will tell you that you will save money off your first order and before you know it you're using it regularly and racking up the debt.
Store cards are almost never a good idea as they usually have a very high interest rate which usually cancels out any savings you might get on that first purchase- and it can make you more likely to buy on a whim.
As a rule, also avoid high interest credit cards were possible. It is always better to save up and buy the gifts rather than buying them on credit and having to pay back more in the long run.
When you do need to use a credit card, use the one with the lowest interest rate you can get and make sure you pay them back while it is still low to avoid excess charges.
Plan Ahead for Christmas Dinner
Everyone loves Christmas dinner- but how many years have you had leftovers? Christmas dinner for 4 can easily reach over $100 dollars- however it doesn't need to be that expensive.
Be realistic about how much is going to be eaten. An average sized meal plus desert is more than enough for most people and there is no reason to have half a turkey left. Buying a more reasonable portion can save you lots of money.
Another great Christmas dinner saving tip is to have an alternative to turkey. Although turkey is the traditional meat it can be expensive especially around Christmas when demand sky rockets. Some great alternatives to turkey are hams or even going vegetarian. Or start your own tradition and make your family's favorite food! You can save some serious money on the Christmas dinner.
Factor in Seasonal Bills
Winter can be an expensive time when it comes to household bills. The cold, dark nights coupled with the festive lights can quickly allow our electricity and gas bills to soar. However there a few tips that you should remember.
Firstly don't leave your decorative lights on overnight, I know you're trying to get in the Christmas spirit but very few people will see them in the middle of the night anyway.
A good way to make sure you remember to turn them off is to put them on a timer, this is a great tip if you go to bed early but want your lights on for a few more hours.
Your heating bill can cost a small fortune over the winter. However, often you can save a lot of money by making the most of the heating by properly insolating your house. Make sure you have quality wooden blinds or thick curtains over your windows to reduce the heat loss.
It is also advisable to make sure you are only heating the house when and where you need to. Timers are great way to regulate your heating as accidently leaving it on one day can be seriously costly.
Hope you all have a great holiday and manage to save some money this Christmas!
This post was written by a guest contributor.