Every night, before I go to bed, I make Justin's lunch. Usually Sometimes he has PB&J, other times it's a turkey sandwich, and sometimes it's something more creative, like a roasted veggie & hummus sandwich or even a mini English muffin pizza. Add to that a few snacks and, if I was using regular plastic sandwich baggies, I'd be putting pounds of waste into landfills each year, just by packing his lunch.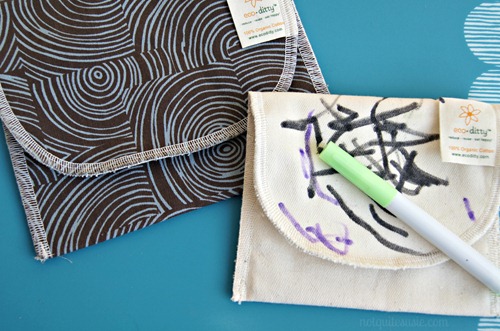 We've used other eco-friendly options in the past for storing Justin's lunch items, but I haven't liked any of them as much as I like our newest discovery, the eco∙ditty! Made of 100% organic cotton, the eco∙ditty brand offers both snack∙ditty bags and wich∙ditty bags, for-you guessed it- snacks and sandwiches, respectively. The difference between the two is the size: the snack∙ditty is 6×4 inches & the wich∙ditty is 7.25x 6 inches.
Both items are great because:
-They're versatile: you can carry whatever you want or need to in them. You can pack dry snacks like crackers or perishables like apple slices.
-They're BPA and PVC free, so you don't ingest any unwanted plastic chemicals with your PB&J.
-They come in great designs and colors, and are printed with low-impact inks & dyes.
-Washing them is easy & convenient- you can wash them by hand, in the washing machine or in the dishwasher!
-They're velcro, so if your snack is a little bigger than usual you can adjust the closure accordingly to contain it without spilling.
-They're affordable: snack∙ditty bags are $9.99 each and wich∙ditty bags are $13.99 each. That's a great value already, but when you consider how much you're saving by not purchasing plastic baggies it's even better!
As a bonus, they have a Color Your Own that comes with three markers & makes for a fun craft project! Shane is always happy when I pack his snack in the eco∙ditty that he designed!
eco∙ditty products are available at several online & brick-and-mortar retailers- you can view the store locator here. You can also order them online directly from eco∙ditty or on Amazon!
Who do you pack lunches for?

Susie's Note: I received the items mentioned to faciliate this review. All experiences are authentic & all opinions are my own.