I don't know if it's because I spent the better part of the last week sick in bed or because our Christmas tree is still up, but I can't believe Valentine's Day is in only THREE weeks! &For the next TWO weeks, a group of bloggers & I will be giving away $300 to one lucky reader to treat themselves & their loved one on Valentine's Day!
What would you do if you had an extra $300 to spend on a Valentine's Day Date Night?
You could go to a really nice restaurant & order a nice bottle of wine, you could do a family outing with the kids somewhere, you could stay home & use the money on some really nice gifts- whatever sounds best to you.
Check out all the fabulous bloggers participating in the event!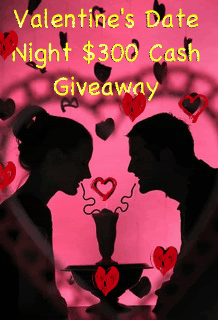 To enter, simply follow each of our blogs via Facebook, Twitter and Google+! All the links are provided for you and you can do as many as you choose. Take your time as this giveaway ends 2/7/12 at 11:59 pm EST.
This giveaway is open internationally and will be paid via Paypal, so anyone can enter &you'll have the money by the big day! Just enter using the super simple Rafflecopter form below- Good luck!